SuperData and Wargaming published a joint report focusing on the CIS region. As per the findings of the study, Russia's games market will grow 57% in 2019.
Thus, Russia will surpass France as Europe's third biggest market by video games revenues.
In 2018, Russia ranked fourth with $1.7 billion in the video games revenue (8% of the European video games market), and France held the third spot. Not anymore!
SuperData attributes the changes in the European market to two factors:
low market activity in the region due to the small number of premium releases (compared to previous years);
the dramatic growth of mobile gaming in Russia (in 2018 the segment grew by 51% from $372 million to $561 million, with the upward trend continuing in 2019).
Despite the growth in mobile, PC remains the most popular gaming platform in Russia. According to the report, in 2018, there were 79 million PC gamers in the country. By the end of 2019, their number will increase by 3%.
PC gamers account for 45% of Russia's digital gaming revenue, with the most spending happening in free-to-play PC games. For comparison, in Europe free-to-play PC games only generate 20% of the total digital revenue.
The report also mentions an important growing segment of the Russian gaming market which is eSports. Two-thirds of gamers (64%) in Russia watch eSports content. The most popular content is about Dota 2 and CS: GO. Eight of the top ten channels are dedicated primarily to these games. However, these are not the highest-earning titles, with customers spending the most money in The World of Tanks and the battle royale games.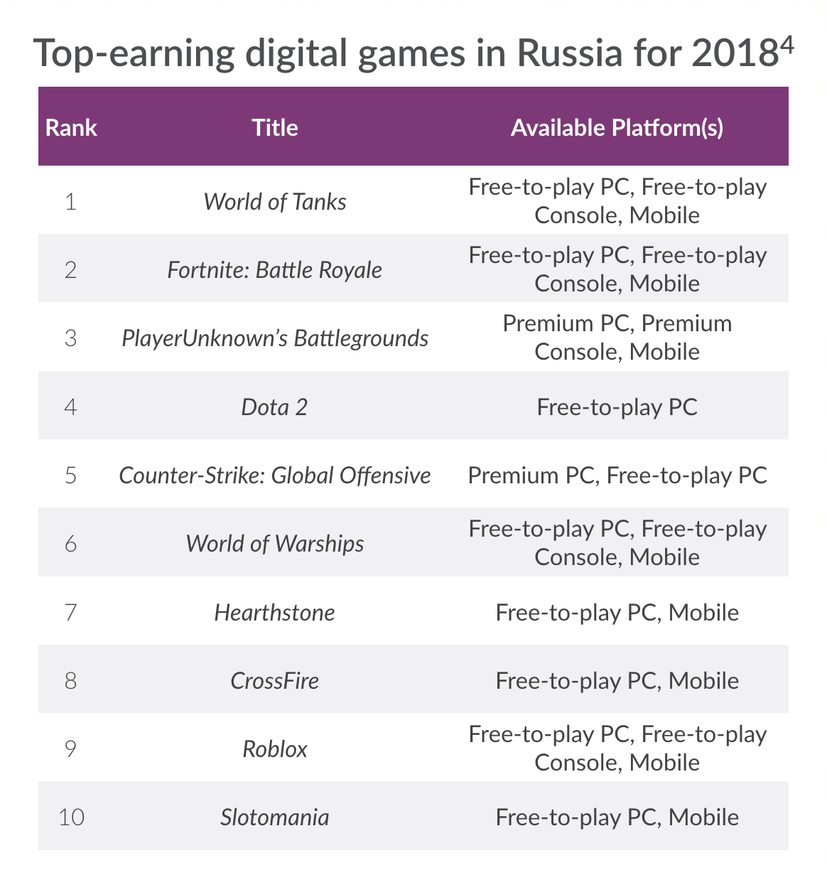 Despite the rise of the Russian market in 2019, SuperData is confident that in 2020 its growth will slow down significantly.