Europeans will spend around $23 billion on apps in 2020 across the App Store and Google Play. Spending on mobile games will also increase from 2019, but their share of the total revenue generated on mobile will decrease compared to non-gaming apps.
This is according to Sensor Tower's three-year forecast for the European mobile market. The report contains stats on revenue and installs all the way up to 2022.
General
In 2022, Europeans will spend $23.5 billion on all types of apps on the App Store and Google Play. This is 109% more than in 2019.
By 2022, the App Store revenue in Europe will grow 109% to $12.6 billion. In 2019, it amounted to $6 billion.
Over the same period, the Google Play revenue will also grow 109% and reach $10.9 billion.
Both stores will retain their shares of the markets comparable to last year. The App Store will account for 53.7% of the total app market by 2022, while 46.3% of all mobile spending will take place on Google Play.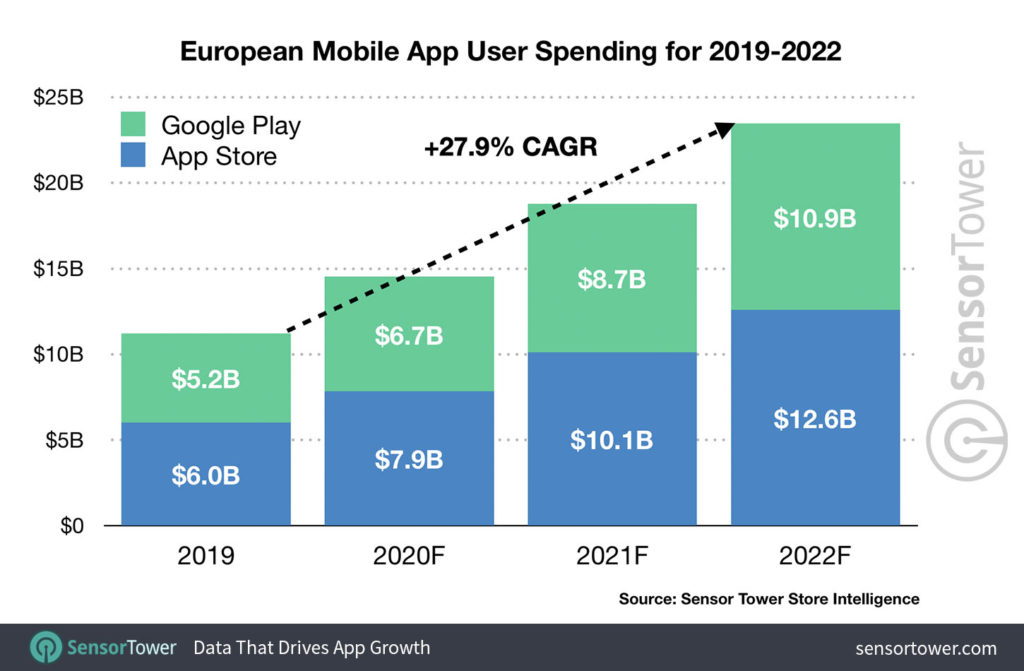 First-time app downloads will hit 29.6 billion in 2022. This is 22.7% up from 2019.
22 billion installs will come from Google Play (an increase of 24.9%). Another 7.6 billion will be generated on the App Store (an increase of 16.8%).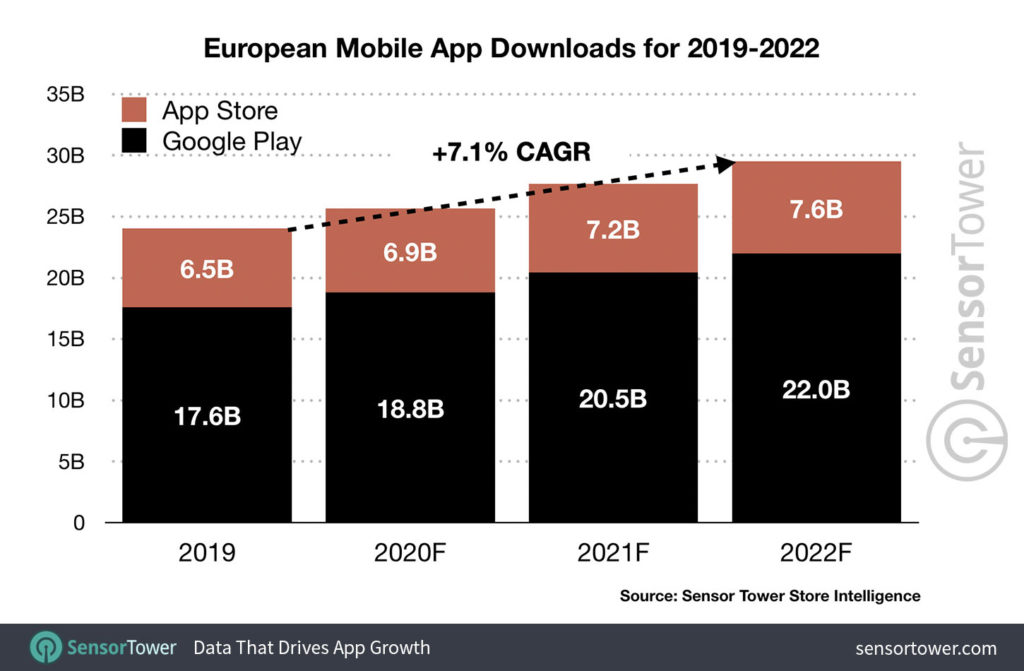 Games
Games will remain the top category in terms of spending and installations across both stores over three years.
Europeans will spend a total of $12.9 billion on iOS and Android games in 2022. Compared to 2019, this is an increase of 72.8%.
At the same time, the share of revenue for gaming apps will drop from 66% to 55% compared to non-gaming ones.
Last year, the share of revenue from games on the App Store was 49%. By 2022, it will decrease to 39%. On Google Play, the share will drop from 81% to 73% over the same period.
In 2022, Europe will generate 12.4 billion downloads from the App Store and Google Play. This is an increase of 19% compared to 2019.