Everybody copies. Even big publishers do. Lion Studios, owned by AppLovin, has published a clone of hyper-casual game Domino Smash by Gismart. Everything from mechanics to levels is the same. What should the original creators do in situations like this?
This very question we asked Gismart.
Where it all begins
Gismart soft-launched Domino Smash on July 19. This minimalistic game is a sort of mix of billiards and bowling. In it, the player destroys domino mazes with a ball.
As often happens in the mobile games market, the new entrant quickly spawned copycats. On September 13, the game's clone called Rolling Domino came out in soft launch to be published a few weeks later by one of the largest hyper-casual publishers, Lion Studios.
The two games are very difficult to tell apart. Lion Studios' title does not just copy the basic principle or mechanics of the original. The developers of Rolling Domino pretty much borrowed everything from Gismart's game. Fields and obstacles are the same, domino patterns and the visual style are almost identical. It got ridiculous. The developers of the clone even copied one of Domino Smash's visual bugs.
Domino Smash and Rolling Domino
The global launch of Domino Smash took place in early October. A few days later, Lion Studios released its clone. Now the two games are competing for downloads globally.
Standoff
Gismart is philosophically accepting of the situation. "We understand that the competition is extremely high," says Lana Meisak, VP of Marketing and Business Development at Gismart.
The company officially debuted in the hyper-casual market last August. That's when Gismart released Cool Goal! The game was installed 5 million times in its launch week and became the third most downloaded hyper-casual game in the world in September.
Before this, the company did not properly participate in the gaming market focusing instead on music apps. In this niche, Gismart got 350 million downloads on iOS and Android.
The gaming industry is a new territory for the company, and it's facing challenges previously unknown to it. So far, the competition with Lion Studios has been one of the biggest ones.
Domino Smash and Rolling Domino
Lion Studios is a gaming label of marketing company AppLovin. It is the official number three in the mobile advertising market (only surpassed by Google and Facebook). Competing against it is tough: this company knows the advertising market inside out and  forms it in many ways.
Gismart has managed to stand its ground so far. According to DataMagic, Domino Smash outperforms Rolling Domino by downloads – 7 million against 6.6 million. And it ranks higher in the stores.
However, it is pretty clear that without the competition with Lion Studios, the number of downloads would have been bigger for Gismart's title.
What to do
Gismart does not see a point in resorting to litigation. This is too complex and slow a process, and it's going to cost.
"Legally, these issues are never resolved quickly. Protecting the rights to gameplay, design or individual assets in a game is a complex, long and expensive legal process," Lana Meisak explains.
Asking the platforms to interfere is also pointless. Openly taking sides is not in their interests.
"The platforms won't take on the role of a referee, preferring to remain neutral and thereby giving the two sides the opportunity to settle things between them directly."
So there is no way to play it safe. Even invisible accounts do not help, which some companies use for soft launches. The community of hyper-casual publishers is very close. It's impossible to avoid leaks.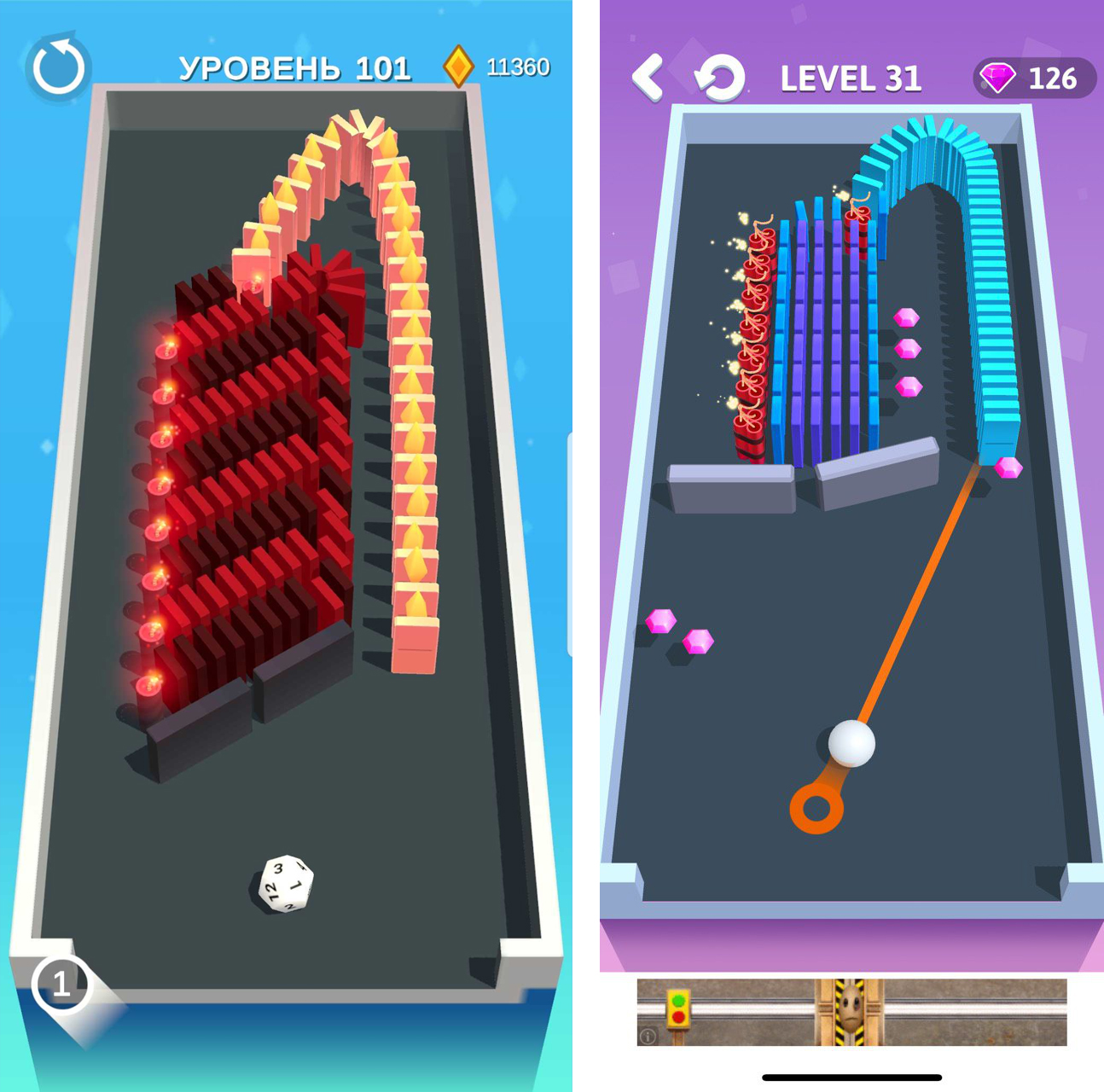 Domino Smash and Rolling Domino
According to Meisak, it's better to prioritize speed.
"The faster the necessary improvements are made and the right creatives are identified, the more chance the game has to gain a large audience and become more successful than a clone."
Companies that can't afford to spend large amounts on advertising have no place in the market for hyper-casual games: "Big players can at least try to compete against a clone. Indies do not stand a chance, a big publisher will simply buy all the traffic ."
The situation is unlikely to change any time soon. The only thing that may discourage cloning is potential reputation costs.
Lana Meisak believes that indie developers tend not to offer their projects to publishers who often resort to copying other companies' titles.