Despite Gears 5's successful release, in general, July-September was not the best period for the Microsoft gaming division.
Yesterday, on October 23, Microsoft released its results for the first fiscal quarter of 2020. It fell on the third calendar quarter of 2019.
According to the published data, in July-September, Microsoft made $2.54 billion on games. This is $196 million less than the company earned over the same period a year earlier (7% down from last year).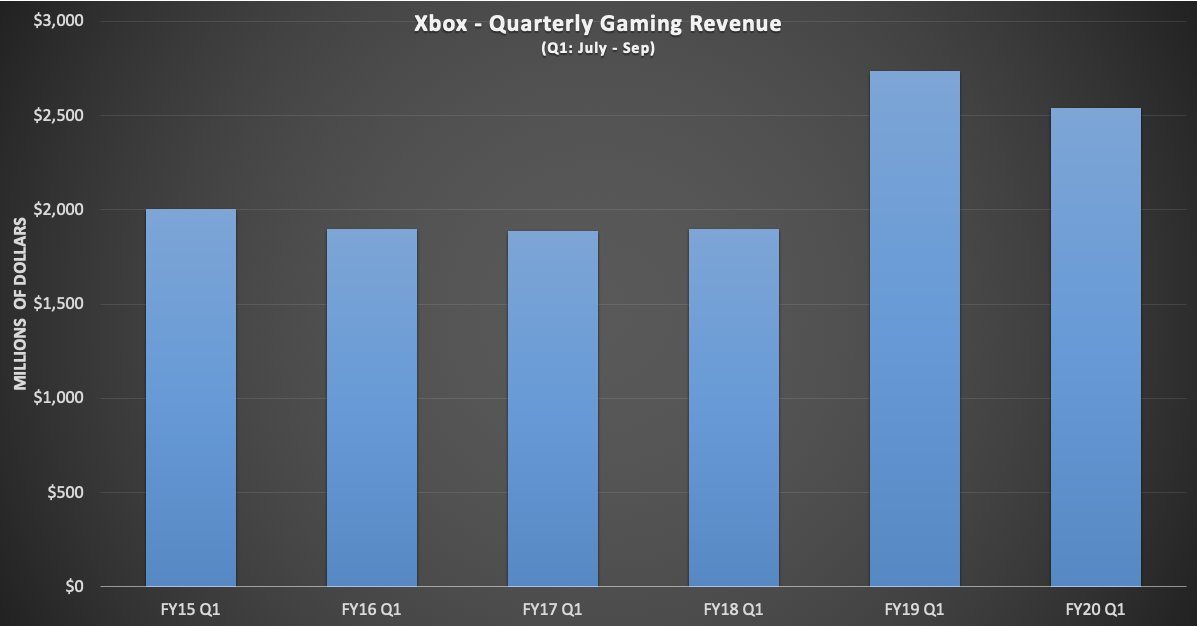 Quarterly Gaming Revenue (First Quarter Only, 2015-2020)
The total of $2.54 billion includes revenues from Xbox hardware sales, console and PC games, Xbox Live microtransactions, subscriptions, cloud services payments, advertising and royalties from third-party teams (for example, Microsoft is getting 30% of every microtransaction in Fortnite made on Xbox One).
Microsoft mostly attributes this decline to a 34% decrease in the number of consoles sold. As market analyst Daniel Ahmad notes, this should not come a surprise as the time of the current generation of consoles is drawing to a close.
On a more optimistic note, revenues from content and services remained flat year-on-year, according to Microsoft. This is all the more healthy since Fortnite and other IAP games brought in lower revenues for Microsoft this year, Ahmad says. In fact, Xbox software and services revenue was up 1% year-on-year, indicating an increase in Xbox Live and Xbox Game Pass subscriptions.
The Gears 5 release also helped. The game became one of the biggest hits of Xbox Games Studios on the current generation of consoles. 3 million people played Gears 5 during its launch week.