Supercell, a hit-making studio from Finland, today officially announced the beta release of a new game called Rush Wars.
The title is available for download in Canada, New Zealand and Australia.
The developers identify the title as the "fast-paced strategy game in which you grow a squad of strangely connected and surprising new characters."
The official press release also says the game is PvP oriented. As a player, you will have to "to plan and outsmart your opponents' bases."
Gameplay videos suggest that the game pretty much builds on the studio's earlier PvP blockbusters.
Core gameplay is divided into two components. In the first, the player builds the defenses for their base. In the second, they send a squad to attack the enemy base in order to get stars and resources.
The game is different from Clash of Clans and Boom Beach in that it lacks the building economy. The player does not set up farms or mines to collect resources. You only erect defensive obstacles.
What Rush Wars borrows from Clash Royale is the concept of cards and their upgrades. By the way, there are many types of cards in the new game. There are unit cards, there are hero cards, there are cards with bonuses and defense cards with various weapons to protect the base.
Supercell hopes that Rush Wars will  spend less time in soft launch than Brawl Stars did. The studio's previous game was in soft launch for 15 months, and it dramatically changed several times over that period.
The studio's monthly revenue is around $110 million, according to the analytical company DataMagic . Its highest-grossing game is still Clash of Clans.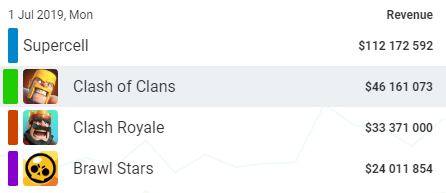 Supercell revenue broken down by top games, July 2019