A premium games subscription is arriving at Google Play. Google has posted details about its Play Pass subsription platform.
The service is Apple Arcade's counterpart on Android. The key difference is that Apple only includes mobile exclusives, while Google focuses on any more or less noticeable premium titles that have already been released in the store.
Google Play Pass subscribers will be able to play titles like Stardew Valley, Risk, Terraria, Monument Valley, Star Wars: Knights of the Old Republic, Reigns: Game of Thrones, Titan Quest, and LIMBO.
The total of 350 apps is planned for the launch. Not all of them are games, though. The service will include, for example, FaceTune, a portrait retouching app, and AccuWeather, a weather forecast app.
The subscription will cost you the familiar $4.99 per month (for the first year of use, the price will be lower – $1.99). All apps will be completely unlocked, free of any IAP and ads.
Google Play Pass will launch in the US this week, with other regions joining "soon," according to Google's blog.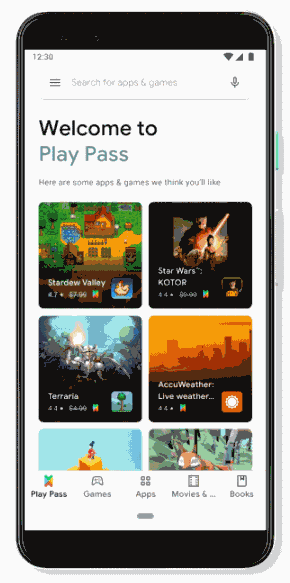 Just like Apple Arcade, Google Play Pass also has a separate tab at the bottom  of the store page. Under the tab, you can find all apps that support the subscription. However, the tab here is just a content filter as users can also find subscription games throughout Google Play. These will be accompanied by a "ticket" icon.
This suggests that Google will not use Play Pass to develop a new closed ecosystem similar to Apple Arcade. Rather, it offers a simple add-on to the store which, in theory, will allow premium apps already on the platform to finally start making money on Android.
How exactly the new platform rewards the developers in not quite clear. Google says the following:
"Developers earn a royalty that incorporates time subscribers spend in their app and captures how users value all types of content (from weather apps to epic endless runners). We're continuously refining the model to make sure it fairly rewards titles that bring the highest user value."
TechCrunch summarises it like this: "the more people download a Play Pass title, the more the revenue developers receive on a recurring basis."
In any case, Google is still refining the model to adequately reward titles that bring the highest user value.
Google Play Store and Play Pass distribution is supported by the same APK, all developers have to do is integrate several Google Play APIs.
Right now, Play Pass is an invitation only program. If you would like you app to be on Google's subscription platform, you can apply here.