When it comes to updating the most downloaded game in the world, SYBO Games takes it very seriously. The new version of Subway Surfers was soft-launched as a separate game.
Original Subway Surfers
A bit of history
The original Subway Surfers was released in May 2012. Since then, its global downloads have reached a whopping 2.5 billion. According to App Annie, the title is the most downloaded game of the decade.
And it's not just lifetime downloads that make the game phenomenal. Even eight years after the release, Subway Surfers ranks among top 10 most downloaded mobile games every month.
It's just that over all this time, the game has not changed a lot. Both core gameplay and meta are still the same. The player still runs along the railroad tracks, collecting in-game gold to buy skins and spends real-world money on flying boards.
The main feature of the game is in the monthly updates of the setting. In January it can be snowy Moscow, and in February, for example, Paris.
The game is mainly monetized via ads. These are mostly rewarded videos. However, given the large install base and the MAU of 100 million, SYBO Games also makes decent enough money from IAPs. Its IAP revenue is about $ 500 thousand per month.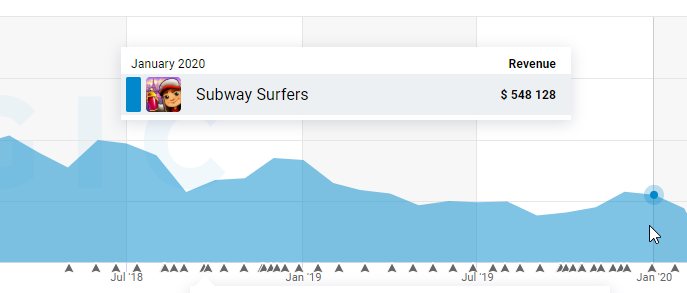 Subway Surfers IAP revenues by month (AppMagic)
Major update
Despite continued success, it's about time for some changes. Today, at the meta level, mobile games no longer work with users the way they used to. Traditional events, regular updates, two currencies and video ads are not enough to maximize profits.
At the same time, the developers are afraid to dramatically change the game, potentially scaring off the existing audience. Perhaps neither they nor their publishing partners from Kiloo fully understand the reason for the title's success. Since the release of Subway Surfers, neither company has produced anything even approaching the success of their main hit.
So the team is testing a new large-scale update as a separate game called Train Riders. It is an exact copy of the existing Subway Surfers with three key innovations introduced. The first one is the freedom to travel around the world to different cities. The second one is Season Hunt, the game's equivalent of the Fortnite Battle Pass. Third one is a new interface and, possibly, a new version of the engine.
Train Riders
All this fuss with an update, was it really necessary?
Given that Train Riders has an average score of 2.8, and players complain about problems with bugs and performance, releasing it separately was a good call.
Now the original version of Subway Surfers continues to generate installs and revenues, with updates and new events still coming out. At the same time, the team has been quietly polishing the new version of the game since November 2019.